The Miraculous Medal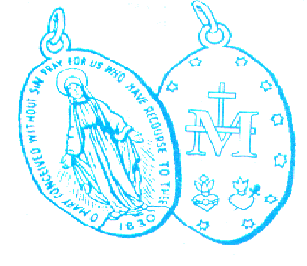 Apparitions are unusual And yet they are dramatic reminders of what is going on all the time About midnight on July 18th 1830. Catherine Labore (a novice with the Daughters of Charity of St Vincent de Paul) was led to the chapel of the Rue du Bac in Paris and there spoke with the Mother of God. In a dramatic way she experienced the care and affection which Our Lady has for everyone but especially for those who hear the name of her Son and call themselves Christians.
Catherine was given a task. Four months later, on November 27th she was shown the design of a medal which would remind people - rather as the apparitions reminded Catherine of the love and protection which Our Lady offers us. Wearing the Medal would he our gesture of acceptance.
Soon the sheer number of strange and wonderful acts of kindness coming from Our Lady - through the medium of the Medal - had people speaking of it as "Miraculous". So the name was born THE MIRACULOUS MEDAL. Maybe not quite accurate, for it is acceptance of Our Lady's protection, shown by wearing the Medal, which brings her power into our lives.
For forty-seven years St Catherine lived an ordinary, obscure, laborious life as a Daughter of Charity and no one, except her confessor, knew that it was she who had received from Our Lady the request to have the Medal made and distributed. In their various apostlates the Daughters of Charity and the Vincentian Fathers have since then publicised and promoted the Medal and its message to the world.
Suffering - in one form or another - comes to all of us as we travel along life's road. When we meet suffering it is difficult for us to accept that God is a loving Father. The Miraculous Medal challenges us to look at life again and accept the protection, an encouragement offered us by the Mother of God. The Medal is no "good-luck" charm. It is a reminder that Our Lady is - to quote Pope Paul VI -
"a sure hope for those troubled in mind as they often are ; divided in heart ; uncertain before the riddle of death; oppressed by loneliness ; a prey to boredom."
Our Lady will help lighten our darkness for she brought forth Him who is "the light of the world."